Primus is an American rock band currently composed of singer and bassist Les Claypool, guitarist Larry "Ler" LaLonde, and drummer Tim "Herb" Alexander.
Their music is difficult to define, and while usually considered by critics to be funk metal or alternative metal, Primus has been called everything from "thrash-funk meets Don Knotts, Jr."[2] to "alternative rock" to "the Freak Brothers set to music."[3] Les Claypool himself once described their music as "psychedelic polka."[4] Primus is the only band with its own ID3v1 genre tag, as extended by Winamp.[5]
The diversity of their sound has allowed Primus to gain a modest segment of fans from many different rock sub-genres. They are characterized by their irreverent approach to music. Primus release their records on Claypool's Prawn Song Records label, a parody of Led Zeppelin's Swan Song. The band's catchphrase is no longer "Primus Sucks!" because the band thought it became tiresome, although it was a tradition that dated back to their first album, and many fans still chant it at concerts.
Band history
Edit
The early years (1984–1990)
Edit
Primus began as Primate in El Sobrante, California during the mid-1980s, w singer and bassist Les Claypool and guitarist Todd Huth. Claypool rounded out the band with a drum machine but drummer Perm Parker was added for the recording of Primate's demo tape.[6] The band would go through many drummers throughout their early history, eventually settling on Jay Lane.
Although not a thrash metal band, Primus was heavily associated with the Bay Area Thrash scene in their early years. Opening for bands such as Testament and Exodus, whom Claypool almost joined, they picked up a following of fans from the scene as a result. Primus received praise from Testament's Alex Skolnick very early into their career.[7]
After rising to local music scene stardom with their brand of funk metal fusion, Huth and Lane left in 1989 to pursue other projects. Claypool then recruited former Blind Illusion bandmate and one time Joe Satriani student Larry "Ler" LaLonde, and eclectic drummer Tim "Herb" Alexander. Tim Alexander is originally from Germany.
During this time, Primus played a number of shows at Barrington Hall, a notoriously free-wheeling Berkeley student housing co-operative. Barrington Hall is often referenced in the band's music; the song "Frizzle Fry" refers to having sexual intercourse with women at a Barrington Party, and the album Tales from the Punchbowl refers to the LSD-spiked punch that was frequently served at Barrington social events. Claypool later recorded a song called "Barrington Hall" with his Frog Brigade.
Primus continued to gain popularity and in 1989 released their first album, Suck on This, a live recording culled from two of their Berkeley concerts. The album was financed by Les' father.
In 1990 the band released their first studio album, Frizzle Fry, and released singles for "John The Fisherman" and "Too Many Puppies". With a music video featuring Kirk Hammett, a studio album and a tour with Jane's Addiction, Primus' popularity grew to the point where they attracted attention from Interscope Records, who signed them in 1990.
It was during these early years that the catch phrase "Primus Sucks" was started. It began with people constantly stating to the band just how good they were. one day when someone told the band they were good, Les turned around and said "No, we suck" and from then on it stuck.
Cheese, Soda and Punch (1991–1996)
Edit
Primus' major label debut was the album Sailing the Seas of Cheese supported by singles "Jerry Was a Race Car Driver," and "Tommy the Cat (featuring Tom Waits)," both of which appeared on MTV. A third single, "Those Damned Blue-Collar Tweekers," was also released but did not feature a video. The band appeared as contestants for the Battle of the Bands in Bill and Ted's Bogus Journey and made music for a Beavis & Butthead tribute album with a song entitled Poetry and Prose. With a major label behind them, Sailing the Seas of Cheese went gold. The band then toured in support of Rush, U2, Anthrax, and Public Enemy.
After the release of Sailing the Seas of Cheese, in 1992 Primus released a cover song EP Miscellaneous Debris, with their version of XTC's "Making Plans for Nigel" receiving enough airplay to reach #30 on Billboard's Modern Rock Tracks chart.[8]
In 1993, Primus released Pork Soda, which managed to debut at #7 on the Billboard Top 10. The album was darker than previous Primus efforts, dealing with murder, suicide, and alienation. The band has commented that prior to recording, they had been touring for nearly two solid years and were thus in a somber mood. "My Name Is Mud", "DMV", and "Mr. Krinkle" were hits, the latter made into a video featuring Claypool in a pig suit and tuxedo playing upright bass in an abandoned warehouse as a carnival of oddities parades behind him, including Claypool's wife and her twin sister. Claypool said he put his "heart and soul into" the video, but it received next to no airtime on MTV (In an interview with Guitar World magazine, Claypool disparaged the channel's unwillingness to air the video, saying "it got played like six times.")
Pork Soda also carries the distinction of being the first full length album recorded at Claypool's house. The band would subsequently record all of their albums in his home studio.
In 1993 Primus headlined the alternative rock festival Lollapalooza. They also made an appearance at the Woodstock '94 Music Festival. They were pelted with mud while they performed "My Name is Mud" (Claypool claims to still have mud in his speakers). About a minute into the song the band stopped playing, and Les said "Well I opened a big-ass can of worms with that one, didn't I? The song is called "My Name Is Mud", but keep the mud to yourselves you son-of-a-bitch" and after a short break "You know, when you throw things onstage, its a sign of small and insignificant genetalia." The band was churning out material frequently. In the previous four years they had released three albums, an EP, six music videos, and a home video. To top that all off, they toured with Rush, who they consider to be one of their biggest influences.
During a lull in 1994, the original Primus lineup consisting of Claypool, Huth, and Lane reunited to record Riddles Are Abound Tonight under the band name Sausage. Among the pre-Primus songs they recorded were "Temporary Phase", "Prelude to Fear", and "Shattering Song." The video to "Riddles Are Abound Tonight" featured the band in blue leotards performing on stationary bicycles.
In 1995 Primus released their fifth album, Tales from the Punchbowl. It was very well received and contained Primus's most successful single to date, the Grammy-nominated "Wynona's Big Brown Beaver". The ubiquitous song was accompanied by an equally ubiquitous video with the band members dressed up in cartoonish plastic cowboy costumes (similar to the suits worn in the then current Duracell battery commercials). So great was their popularity that the band was invited to perform on David Letterman and Conan O'Brien's shows. Two other less successful singles, "Mrs. Blaileen" and "Southbound Pachyderm" (the latter of which featured a claymation video that received only minimal airplay on MTV) were also released.
Many incorrectly believed "Wynona" was about actress Winona Ryder. Claypool has stated several times that the song is not about Ryder, pointing out that the song's name is spelled and pronounced differently. While this placated Ryder, her then boyfriend Soul Asylum vocalist David Pirner took offense and renamed one of his songs "Les Claypool's A Big Fucking Asshole" in concert. [1]. Claypool was apparently not even aware of this at the time, although this did cause tension between fans of Primus and Soul Asylum for a brief period.
In 1996 Les self-produced his first solo album entitled "Les Claypool and the Holy Mackerel Presents Highball with the Devil". On this album many of the songs are done solely by Les himself. Les also employs the help of a number of other musicians. Experimental Bay Area guitarist M.I.R.V. joined Claypool and others. Performances include a spoken word piece from Henry Rollins on the song "Delicate Tendrils". This album was recorded at Claypool's home recording studio, Rancho Relaxo.
The Mantia era — Brown Album, Antipop & hiatus (1997–2002)
Edit
Disturbed by their sudden fame, Primus gradually began to disown "Wynona." It would not be long before Claypool stated that they would stop playing it altogether. Nonetheless, Alexander left the band in 1996. Rumored replacements for Alexander included Mike Bordin of Faith No More, but in the end he was replaced by Bryan "Brain" Mantia of Limbomaniacs and Praxis. Mantia was one of the many drummers Claypool auditioned for the original line-up of Primus before settling with Alexander — Mantia bowed out beforehand because of a foot injury.
With Mantia aboard, Primus was asked in 1996 to compose the theme song to South Park after the show's creators Trey Parker and Matt Stone confessed to being big fans. (Les Claypool was an early supporter of their Spirit of Christmas video postcard/demo.) Primus also contributed to the South Park "Chef Aid" album with the song "Mephisto and Kevin", telling the story of Gopherboy. By this time, bands that were influenced by Primus's bottom-heavy rock — such as KoЯn and Limp Bizkit — were starting to gain a growing audience in the alternative metal genre which Primus had helped to promote.
Brown Album was released in 1997 with singles "Shake Hands With Beef" and "Over The Falls". The Brown Album was a departure from previous Primus work.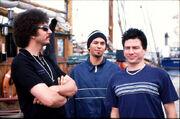 In 1998, the band headlined the inaugural Sno-Core tour with the Aquabats, Long Beach Dub Allstars and Blink 182. Les broke his foot on this tour.
Antipop was released in 1999, and was the first album to feature heavy input from outside musicians and producers such as Tom Morello from Rage Against the Machine and Fred Durst from Limp Bizkit. The album was seen as a 'return to form' by most long term Primus fans, featuring harder edge song-writing fans had been craving as well as greatly improved production over the previous album. The band toured with Ozzfest, Family Values Tour, and released a video for "Lacquer Head" that was banned from MTV because of its drug content, even though it was an anti-drug song.
In 2000 Primus performed a cover of the Black Sabbath classic "N.I.B." with Ozzy Osbourne on vocals. This track appeared originally on the album Nativity in Black II: A Tribute to Black Sabbath. The single hit number 2 on the Billboard Modern Rock tracks, the band's highest charting single in nearly a decade. The track was also released on Ozzy's Prince of Darkness box-set in 2005.
After touring to promote Antipop throughout 2000, citing studio mismanagement and general dissatisfaction, Primus went on indefinite hiatus in 2001.
During the hiatus, Alexander released two albums with the band Laundry and performed with Blue Man Group, A Perfect Circle, and Born Naked, among others. Claypool explored the jam band scene with Oysterhead (featuring his friend Trey Anastasio of Phish as well as Stewart Copeland of The Police) and his own Colonel Les Claypool's Fearless Flying Frog Brigade. He also collaborated with Mantia in the group Colonel Claypool's Bucket of Bernie Brains. LaLonde joined Mantia to produce two experimental No Forcefield records, and tried unsuccessfully to start a recording studio.
Reformation (2003–Present)
Edit
In late 2003 Claypool reunited with LaLonde and, in a surprise move, Tim Alexander to record a DVD/EP called Animals Should Not Try to Act Like People, which Claypool described as the first DVD with supplementary music, as opposed to the contrary. The band staged a two month tour in which they performed two sets per show, the second consisting of their 1991 release Sailing the Seas of Cheese in its entirety. 2004 saw them continue touring, and even performing their 1990 release Frizzle Fry in its entirety. For these two tours, the band sold recordings directly recorded from the sound-board online, following an example of other bands such as Phish. The performance in Chicago was video taped as well, and was released on the 'Hallucino-Genetics' Live DVD. The band's style as of their last EP was based on the jam band style with extended soloing from band members and generally more focused on musicianship. This follows the musical evolution of Les Claypool's work during the Primus hiatus, it is unknown whether this style was simply temporary or if the band has permanently switched over to it.
In 2005 the band performed at Lollapalooza and Vegoose. Between Primus shows, Les created a new solo project called the Fancy band which, like his other projects only occasionally played Primus songs.
An April 26, 2006 billboard.com story reported that Alexander will be the drummer in a reunited Meat Puppets lineup. The band will feature original members Cris Kirkwood and Curt Kirkwood. Alexander would have taken the place of original drummer Derrick Bostrom who declined an invitation to rejoin the band. However this was later proven false, as the Meat Puppets announced that their new drummer was Ted Marcus.
A May 10, 2006 article in IGN[2] revealed that Primus had signed on with RedOctane to allow the master recording of John the Fisherman to be used in Guitar Hero 2, a game for the Playstation 2 and Xbox 360.
Primus performed on July 29th at the 1st Annual Hedgpeth Festival in Twin Lakes, Wisconsin. No new tracks were performed, and no word was given by any of the members regarding the new album.
In November 2006 commenced Primus: The Beat A Dead Horse Tour 2006, which concluded the following month. During the tour, Primus began performing "Wynona's Big Brown Beaver" for the first time in 7 years.[9] It was rumored on Primus' forums that Bob Cock had said in an email that Primus plans to return to the studio after the tour and make a new album which is scheduled early-mid 2008 release.
It was announced that Primus would be performing at the 2008 Rothbury Festival in Rothbury, MI.[10]
New releases
Edit
In Mid-August of 2006, a DVD release entitled Blame It On The Fish was added to the listings of Amazon and other online shops. Shortly thereafter, the website The PRP reported that a rumor had surfaced implying that the band was quietly planning a North American tour for November/December 2006.[11]
On October 17, 2006, Primus released both their first greatest hits CD They Can't All Be Zingers and their third DVD Blame It on The Fish, subtitled An Abstract Look at the 2003 Primus Tour De Fromage.
They Can't All Be Zingers: The Best of Primus includes 16 digitally remastered songs that span their entire career, including a previously unreleased and extended version of "Shake Hands With Beef", the Tom Waits collaboration "Coattails Of A Deadman", and "Mary The Ice Cube" from the 2003 DVD and EP Animals Should Not Try To Act Like People.
Blame It On The Fish: An Abstract Look at the 2003 Primus Tour De Fromage contains live footage from the band's 2003 reunion tour, interview segments and behind the scenes footage. The DVD includes a 70 minute feature film and 90 minutes of bonus material, including a 30 minute mockumentary about the band in 2065. Blame It On The Fish is directed by Matthew J. Powers, who directed Never Been Done, a documentary about Jon Comer.
Etymology
Edit
Primus were originally called "Primate" until another group called "Primate" threatened legal action. Claypool allegedly selected Primus as the next closest thing to Primate in the dictionary
Band members
Edit
Current members
Edit
Former members
Edit
Side projects
Edit
To see a more detailed description of each band members' side projects, please refer to their respective articles.
Discography
Edit
Main article: Primus discography
Studio Albums
Edit
Other releases
Edit
Music videos
Edit
Primus hire many of their friends from the Bay Area to be in the stage crew, and many of them appear in Primus's videos and home videos.
Radio singles for which no official music videos were made include: "Those Damned Blue Collar Tweekers," "Mrs. Blaileen," "Mr. Knowitall," "To Defy The Laws of Tradition," "Over The Electric Grapevine," and "Coattails of a Dead Man."
Primus song "Tommy the Cat" appeared on the skateboarding video "Questionable video" in 1992. In 1993 Primus song "DMV" appeared on the skateboarding video "Virtual Reality". Both songs appeared on Pat Duffy's part.
In 1999 Primus' "Jerry Was a Racecar Driver" appeared on the soundtrack for "Tony Hawk's Pro Skater" video game. In 2006 the Primus song "American Life" appeared on the soundtrack for "Tony Hawk's Project 8" video game
Primus also made a subtle tribute to Jesus Christ Superstar in the song "The carpenter and the dainty bride." Near the end of the song, Les plays a guitar riff almost identical to that of the melody in the overture of Jesus Christ Superstar, as well as the track "39 Lashes" near the end of the soundtrack.
Primus also wrote or co-wrote the theme song to the comedy show South Park.
Pop Punk band Chixdiggit reference Primus in their song "Angriest Young Men" from the 2007 album Chixdiggit II.
Seamus from Family Guy reveals in the episode Stewie Loves Lois that he carries a poster of the members of Primus in his wooden arm. He also carries posters of a diseased prostate, a map of Middle Earth (from the Lord of the Rings), and a cat doing a pull-up. Peter thinks Seamus' poster gags are a hit-and-miss affair.
John the Fisherman appears on Guitar Hero II's Setlist on the same tour that there's songs like Killing in the Name by Rage Against the Machine.
External links
Edit
Community content is available under
CC-BY-SA
unless otherwise noted.