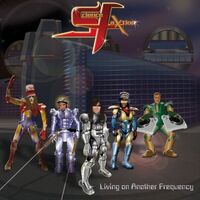 Science Faxtion is a band led by Bootsy Collins. Joining Bootsy in the band are guitarist Buckethead and drummer Brain, as well as DJ Botieus and producer/guitarist Greg Hampton, who will also be handling lead vocals. Science Faxtion's debut Living On Another Frequency (co-produced by Collins and Hampton) is set for worldwide release in November 2008, with a tour to follow. Song titles might include L.O.A.F. (Living on Another Frequency), Fatally Flawed Flesh, Neuro World, and a track with a working title of Living in Eden.
"We're looking at it like, 'What would happen if we wound up a situation down the line as we evolve, that our technology takes over and we are the ones that they're looking at as 'the scum of the earth'," Collins told Billboard.com. "It's kind of like 'Planet of the Apes.' What would they be like? What would that feel like? We're just trying to warn the world that that's comin', and we're having fun with that."
Delayed release
Edit
The date of this release has changed several times. It was first to be released by September 2007, but was then delayed to May and later August 2008. Due to release window problems of the record company it again was pushed back to a release date in March of 2009 but soon was re-announced for November 11 of 2008.
Discography
Edit
2008: Living On Another Frequency (Mascot Records)
Weblinks
Edit